This is a sponsored post written by me on behalf of Casillero del Diablo Wines for IZEA. All opinions are 100% mine.
Cranberry Sangria is the perfect drink for Fall and Winter. Whip up a batch for Thanksgiving or Christmas. You can jazz it up for Halloween and call it Devil's Sangria.
Use Casillero del Diablo Wines, the wine with the Legendary Devil's Tale. You can read all about The Legend of Don Melchor de Concha y Toro on their website.
I absolutely love this one, it's simple to make and perfect for family get dinners. My family are big wine drinkers. My dad loved having wine on all our holiday tables.
As an adult I have to be careful with my alcohol consumption. I have I.B.S. so I can only drink occasionally, but when I do Sangria is the first thing I want. Always. Every single time.
I love fruity drinks, any sippers with fruit in them always rank higher on my list of "must haves". All the better if the fruit is combined with a nice wine, like Casillero del Diablo's Merlot.
We were having Thanksgiving dinner here last weekend (the Canadian Thanksgiving is in October) so I had tons of fresh cranberries on hand. Perfect timing for a Cranberry Sangria.
This drink is absolutely perfect for any holiday gathering. It's easy to make, it holds it flavour well, and you can garnish it in so many ways. It's so versatile, plus it's just a beautiful colour, which is a perk.
Normally I use oranges in this one but I wanted it to double as a Devil's Sangria for Halloween. So I kept it as red as possible. I just used an orange liquer to add a subtle hint of citrus because citrus works so well with cranberries. It's perfection.
This is a drink worth indulging in. You can sip it all day long. Plus you can tell people it's healthy because it has fruit in it. Am I right? So you're getting your daily fruit requirement. Score!

There is a Legendary Costume Contest happening right now. Swing over to their website to check that out. Or check out the photo below for instructions on how to enter.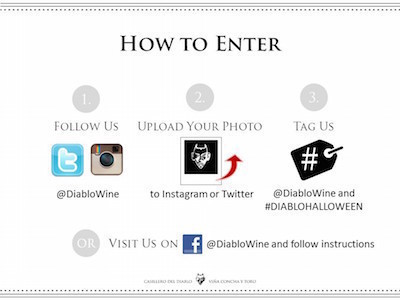 Go. Enter! Nothing more fun than a costume contest!
If you're like me you probably like to eat your booze as well as drink it. If that's the case Casillero del Diablo Wines makes some great choices for cooking. I adore their Cabernet Sauvignon.
You can use their Cabernet Sauvignon for these Vampire Steaks with Red Wine Reduction. I made this recipe for Casillero del Diablo Wines last week. My family is completely obsessed with this one.
Check out the Casillero del Diablo Wines video below!
I bet you're really craving some Cranberry Sangria right about now. It's so easy to make, pretty to look at, and utterly addictive to sip on. Hope you enjoy it.
Places to stalk Cravings of a Lunatic!
Facebook | Twitter | Pinterest | Instagram | G+ | Kiss My Smoke
Cranberry Sangria aka Devil's Sangria
Cranberry Sangria is the perfect drink for Fall and Winter. Whip up a batch for Thanksgiving or Christmas. You can jazz it up for Halloween and call it Devil's Sangria.
Ingredients
1

750 ml bottle of Casillero del Diablo Merlot

4

cups

cranberry juice

1/4

cup

Cointreau

or any orange liqueur

2 to 4

cups

fresh cranberries

2

cups

sparkling water

2

cups

ice

if desired
Instructions
Remember to allow your Sangria to rest for at least 4 hours, or preferably overnight, before serving!
Pour the Casillero del Diablo Merlot in a pitcher, add the cranberry juice, Cointreau and the cranberries, stir well.

Put the mixture in the fridge for at least 4 hours, but preferably overnight.

Remove the mixture from the fridge and add the sparkling water. Stir well. Add ice if desired.

Serve with a big old Sangria loving smile!
Recipe Notes
If using this for Thanksgiving or Christmas you can add orange slices for some extra kick and a super presentation.
If serving for Halloween you make ice or wine cubes in creepy ice cube trays. Amps up the fun factor.
Don't forget to enter Casillero del Diablo's Legendary Costume Contest!!
Keep tuning in for tons of amazing Halloween Recipes, as well as our Dead Eats: Recipes Inspired by The Walking Dead Series.
I'll be kicking off two weeks of Thanksgiving Recipes on November 1 as well. I've been cooking up a storm lately. Being back in the kitchen is a blast. I love my job. Way too much.
Before long it will time for Christmas Recipes. Have you started shopping yet? I have. I usually start my holiday shopping in January. I'm one of "those" people. I love the holidays!
See you soon!
Toodles! xx