Hi folks.
Another month has passed and I cannot believe it is already October. September seemed to fly by. Mostly because I was medicated to the hilt and slept through most of it. So it seemed to disappear. Apparently that's what drug induced sleep does to your life. The upside is I'm well rested. And all caught up on the Real Housewives of New Jersey and New York. The perks of being bed-ridden for a while.
I love being part of the foodie penpal group. It's such a cool idea. The brains behind the idea is Lindsay from The Lean Green Bean. Lindsay is an amazing health blogger. If you ever need motivation to work out or eat right stop by her blog. If you want to join the group you should contact Lindsay and sign up. You will love it. The basic idea behind it is once a month you get assigned a person to send a package to, you also have a person who was assigned to send you something. You get in touch with each other and become besties while talking food and then voila, you get a care package with fun stuff inside. It's so much fun to shop for other people. It's also equally fun to see what other people send you.
This month my match was Cassandra. She doesn't blog, but is a foodie. She is super sweet and really went above and beyond. We conversed via email and she asked me about my likes and dislikes. She really did an excellent job putting together a spectacular package. The chocolate peanut butter is to die for. The chocolate dip must have been made in heaven. The cookies were what I like to call "two fisters", you gotta have one in each hand they are so good. The seasoning I have yet to try, just due to not cooking much while I've sick. But I fully intend to use it soon. I've heard about this particular seasoning and have been wanting to try it. And she got me pistachios which you all know I love more than life itself. I hate to admit this cuz it will break Cassandra's heart but I actually passed these on to my son. For some unknown reason I dislike pepper, like a lot. And also for some unknown reason I have never mentioned it on the blog and it's not in my food quirk post. So she had no idea. I've had family send me these too. I'm sure they are lovely, if you like pepper. So my son thanks you as well Cassandra. He's a poor, broke University student living on his own for the first time. The first thing he asked me to send was snacks cuz he can't afford them. So these went to a good cause, trust me.
Cassandra if you're reading I thank you from the bottom of my heart. You are such a sweetheart and I appreciate the note and everything you did. Thanks oodles and bunches.
Also a huge thanks to my match I sent to this month. She was incredibly sweet about me having to shop at our local grocery due to being sick. I was pretty much housebound at the point the packages went out so I was limited to shopping locally. Let's just say it's a challenge to meet the whole 30 criteria in our little town. Thanks to Diane for being so gracious.
Hope this makes more of you hop on board the Foodie Penpal train. You won't regret it.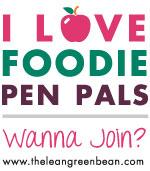 Toodles and smoochies! xx