Now here is a cookie any one can make. They are simple, fast and completely off the charts when it comes to flavour. I make a different version of these every year for the holidays. This year I wanted to kick things up a notch. I had scored some coconut M & M's on a shopping excursion to the states. So I hid them away knowing I would use them for just this purpose. I knew I would be so happy I saved them so they could add extra coconut goodness to my already fabulous coconut cookies. I was right. These cookies are spectacular. One of those cookies that tastes fabulous but does not necessarily photograph well. You also have to photograph them quickly since they vanish so fast. I've never seen cookies fly off a plate so fast. I'd blame other people but I'd be lying. It's mostly me scarfing them like there's no tomorrow.
Today you can find me over at Chelsea's Culinary Indulgence. I was thrilled when Chelsea asked me to be involved. I honestly do not do many guest posts. They sort of freak me out a little bit. I get wicked nervous and put way too much pressure on myself. I over-think the whole thing, then drag my heels afraid to commit. So I rarely put myself in the guest position simply due to fear. I know it's silly but you know honesty is how I roll. I adore this lady so I threw caution, and sanity, to the wind for today. I am so glad I did. It was an absolute pleasure doing this with Chelsea. If you ever get the chance to work with her make sure you say yes. Her enthusiasm is contagious. I love genuine, warm, positive people and Chelsea is all of those things and more.
I decided to make coconut cookies for my guest post. They tend to be my comfort food around the holidays. They remind me of my dad. I started making these in high school. My dad loved them and it became a tradition that I would make them every year. So I made these in honour of my dad. I find myself missing him more than usual around the holidays. My dad was the most interesting fellow. He was not the warm and fuzzy kind of dad lots of people have. He was gruff and often quite moody. I think he scared the bejesus out of most people. I found his softer side later in life. It took him getting terminally ill from cancer to let that warm and fuzzy dude come out. We had lots of long talks over the time he was sick. The side effect of being ill is you end up sitting around a lot, and gabbing becomes a way to pass time between appointments and treatments and such. I got to know my dad so well over those 8 short months. I often refer to it as the best and worst experience of my life. It was heart breaking watching him suffer and then losing him. Yet it was so rewarding and touching to share such an intimate and life changing experience with him. We had a very complicated and combative relationship yet when he got sick he called me to help. I am ever grateful he did. My life is so different now. You learn to appreciate the little things in life. So his final lesson to me was to show me not to waste time being bitter and angry in life. Don't waste time period. Spend time with those you love. You will never regret spending time with loved ones. I hold that lesson close to my heart. It's made me a better mom to my own kids. I'm able to walk away from the dishes or laundry and just chill out with my kids. I thank my dad every day for the gift of not taking life for granted. We all need to slow down and spend more time just "being in the moment". So this holiday season promise me you will slow down, take some time out to make cookies with someone you love, then turn off the world and just "be in the moment" with those closest to you.
A little wisdom from a Lunatic. Who knew you'd get cookies and wisdom. Score!
Make sure you pop by Chelsea's site, Chelsea's Culinary Indulgence to check out the recipe for these amazing Double Coconut Macaroon Cookies. You will love Chelsea's site. Make sure you take a moment to say hello to her, perhaps an extra moment to follow her blog. You can also follow her Facebook, Twitter and Pinterest. Make sure you stop by her about page. The photo of her and her hubby is adorable.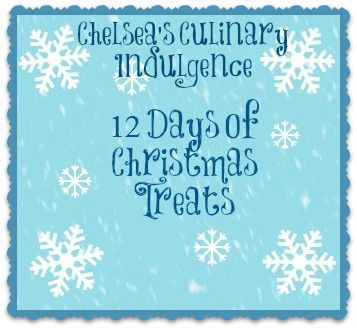 Thanks for stopping by. Tune in later today for a Lunatic giveaway. You will be getting bonus posts with giveaways each day till Christmas. Why? Cuz I loves ya all oodles and bunches, that's why! And people I love get cool prezzies. Known fact. True story. Fo shizzle!
Toodles and smoochies! xx