Hi folks. I am so sorry I have been so M.I.A. lately. I wish it was some exotic excuse like I ran off with Timpothy Oliphant or something like that. Sadly the truth is I've been sick. And busy. Too busy for a sick person. Too sick for a busy person. Apparently delirious as well as I'm not even making sense to my dang self at this point. Anyhoo as my sis says, I am on the mend so I'll be soon stalking all you other bloggers as per usual I'm sure.
So this fudge is part of Mom's Crazy Cooking's monthly fun-fest. I joined them again in the Crazy Cooking Challenge. Our challenge this month was to find a fudge from another blog and make it. I knew I wanted to do chocolate. I knew I wanted to do pistachio. And of course pistachio to me has to come accompanied by dried cherries. It's a given at this point. I know you're all rolling your eyes. Kim and her dang pistachios. Her dang cherries. But I showed restraint people. I did not, I repeat, I did not throw coconut in it. I wanted to, but I held back. So see, I can be restrained. Just ask the people at the hospital, they'll tell ya.
I wandered about the Internet highway cruising around looking at fudge, at pistachio fudge, at everything fudge. There was a dark chocolate one from Nigella that kept popping up. I am not a fan of dark chocolate though so that was out and wiped half the fudge off the list. I scrolled around, looked at a bunch and all of a sudden I happened on a fellow blogger who I adore. There it was...pistachio fudge. Not just any pistachio fudge but one from "Simply Reem". I had found my fudge and I had found it from a blogger who I love. It's like the stars aligned for me. So this is me making Reem's fudge and telling you all you should go check this lady out. She is super sweet and an amazing cook. You will thank me I promise you.
The only thing I changed was adding dried cherries. The rest of the recipe I followed the way Reem did it. I don't follow recipes often so this is a real testament to her. It turned out wonderfully. I had a minor snafu of a wet bottom, (the recipe, not me, ew!) but that was totally my fault. I soaked the cherries in water for a bit before adding them and I should not have. I also wet my parchment which I do often but probably should not for fudge. So I think the wet bottom issue (ew!) was my fault and had nothing to do with the recipe.
Okay so without further ado, or talk of weird things, here you go.
Ingredients
12

oz

semi-sweet chocolate

½

cup

pistachios

shelled and chopped

½

cup

dried cherries

2

tablespoons

butter

1

can

14 oz sweetened condensed milk

1

teaspoon

vanilla extract
Instructions
Shell and chop your nuts. Set aside.

Line an 8 inch pan with parchment paper.

Combine your chocolate, sweetened condensed milk and butter in a heat proof glass bowl and place over top of a saucepan with simmering water on the stove. I found keeping the stove at a medium-low setting worked for me.

Stir frequently until your chocolate melts.

Keep stirring until it is smooth. It will also feel thick.

Remove the bowl from the heat and add your pistachios and dried cherries, and also your vanilla. Mix well.

Now pour the mixture into the pan and smooth it out.

Let it cool to room temperature.

Now stick it in the fridge for a couple of hours.

Once it is set you can remove it and cut into squares.

Serve with a smile.
Yup, flipping awesome. Think it might not last till Christmas. Thanks to Tina at Mom's Crazy Cooking for hosting the Crazy Cooking Challenge. For anyone interested in joining please feel free to get ahold of her. It's a fun group and I always enjoy participating. Also I hope you stop by Simply Reem and check out her blog.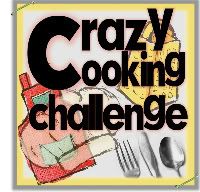 Toodles and smoochies.xx