9 scrumptious tailgating recipes from 9 food-loving bloggers!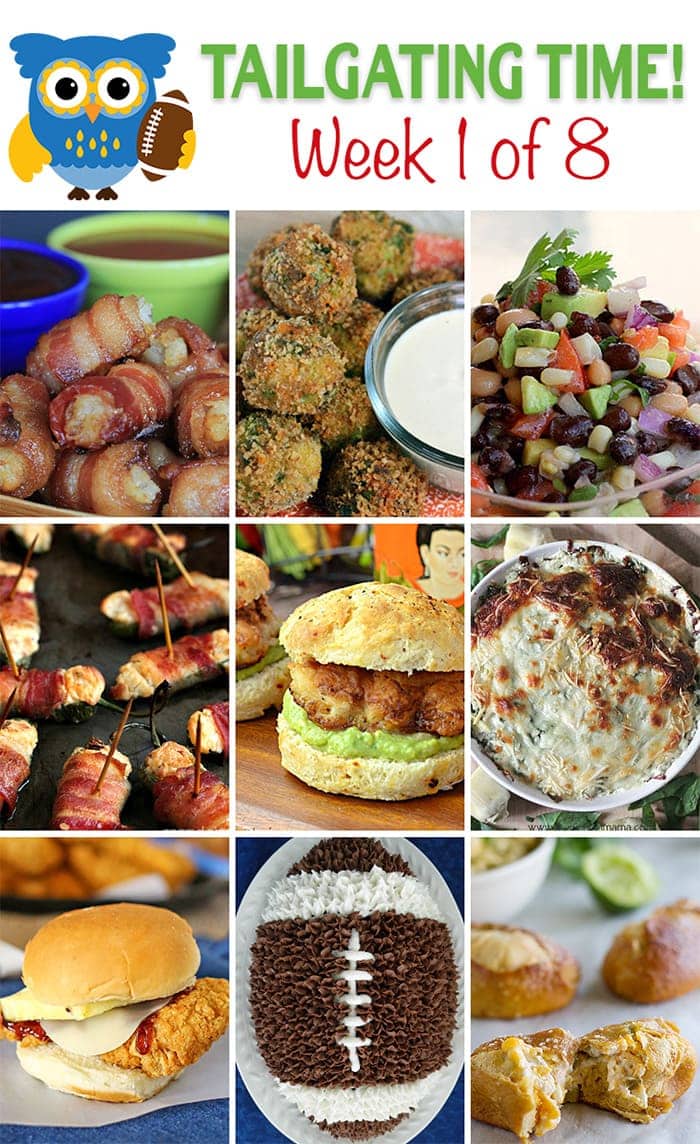 I love football food so very much. Honestly, game food is the only reason I am willing to watch sports. I'm "that girl"! Now, don't get me wrong, I love playing sports, I'm just not a huge fan of watching them.
However, you can count on me to show up to any, and all, tailgate parties I'm invited to. Why? For the food, my friends, for the freaking food. I can watch the game all the live long day if it means I get to munch on tailgate food! No joke!
I cannot resist tailgating recipes....ever! Burgers, sandwiches, dips and desserts. Oh my, the desserts!! You can usually find me hanging out by the cute little football shaped cookies and cupcakes! Any food shaped like a football quickly becomes my favourite thing to nosh on.
The weather is perfect right now for tailgating parties. Nothing goes better with football food than hanging out with friends. Those two things go hand in hand. Always.
So some friends and I thought it would be a hoot to host a weekly tailgating series. Appetizers and desserts are the best kind of recipes out there, right?!? So, be here, every weekend, for the next 8 weeks for 9 scrumptious tailgating recipes from 9 food-loving bloggers!
Before we get to our first week's of tailgating food ideas, let me introduce our hosts:
Or so she says...
This Gramma is Fun
Taste and Tell
The Girl Who Ate Everything
Bakerette
Kleinworth & Co.
Lady Behind the Curtain
The Pinning Mama
Now let's get to the grub... Be sure to pin any images that catch your eye for your future tailgating parties! Find all the individual recipes linked below!
Bacon Wrapped Tater Tot Bombs from This Gramma is Fun
Broccoli Bites with Ranch Dip from 'Or so she says...'
Cowboy Caviar from The Girl Who Ate Everything
Jalapeno Bacon Poppers from Craving of a Lunatic
Chipotle Honey Biscuit Chicken Sliders from Lady Behind the Curtain
Best Ever Spinach Artichoke Dip from The Pinning Mama
Hawaiian Chicken Sliders from Kleinworth & Co.
Dark Chocolate Football Cake from Bakerette
Jalapeno Stuffed Taco Soft Pretzel Sticks from Taste and Tell
And, that's a wrap! Have a delicious party and see you back here next week with even MORE tailgating food ideas!
See you soon! Be sure to tune in Tuesday for an amazing giveaway and some exciting announcements!!
Thanks for visiting today!
If you're looking for more appetizer recipes be sure to check out my recipe index. You can also find a lot more game day recipes as well.

Be sure to follow me on Pinterest while you're here. I love pinning great recipes! Also, make sure you follow me on Instagram. It's a great way to stay up to date with the blog.

Toodles! xx